SAT 2013 Social Program
Welcome Reception: Tuesday July 9 18:00-20:00
The reception takes place in "Lehtisali" in the main building of University of Helsinki, and is hosted and provided by the rector of University of Helsinki. The reception includes a light buffet and drinks. Please use the Senate Square entrance to the Main building for arriving at the reception, as indicated in the map below.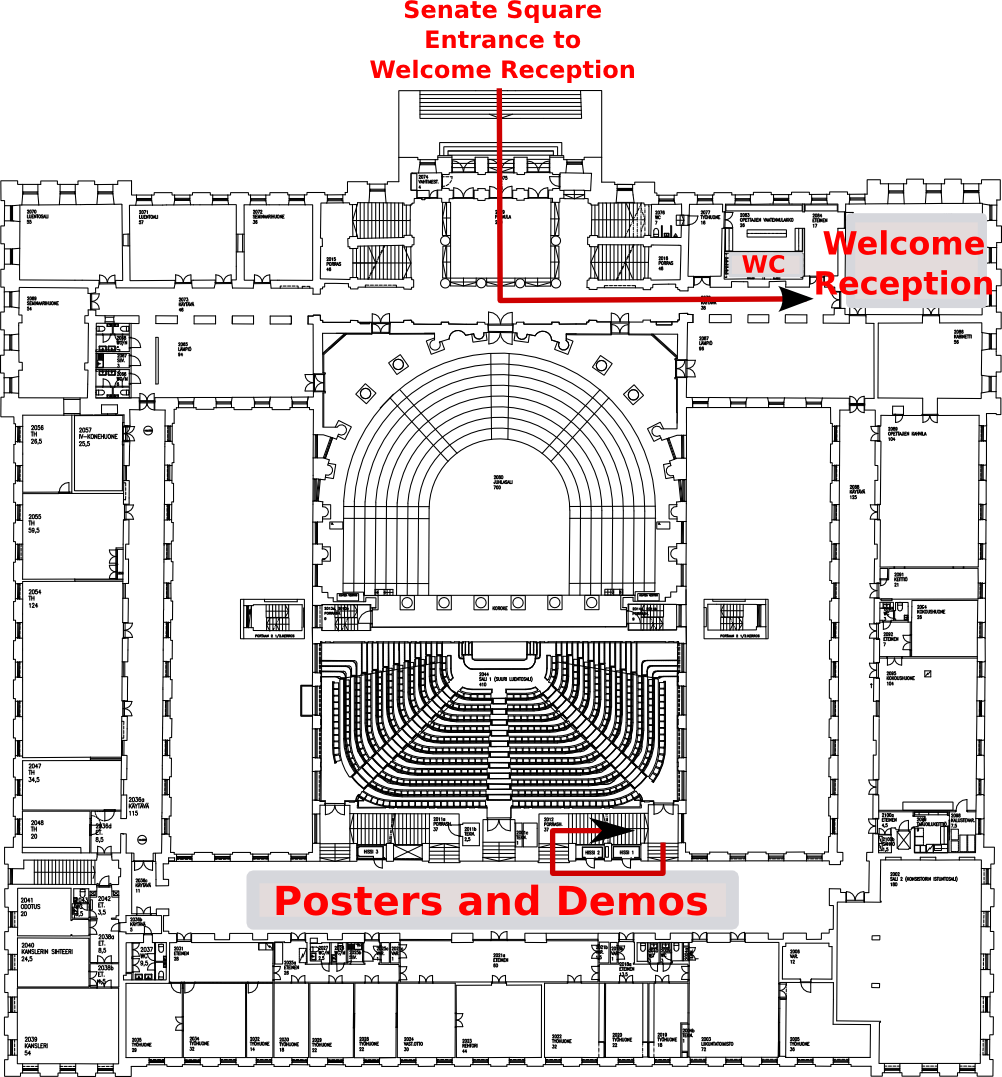 Excursion and conference dinner: Thursday July 11 18:00-23:00
Excursion starting 18:15
A sightseeing tour around some of the central sites in Helsinki, ending right next to the conference dinner restaurant. The method-of-transport for the sightseeing tour is a privately booked "SAT 2013" tram. The tram will take us on board on Aleksanterinkatu at the tram stop "Senaatintori", right next to the conference venue. IMPORTANT: It is extremely important that you are on-time at 18:15 at the tram stop. The same tram tracks are used by regular trams, and hence our tram will not be able to wait for any late-arriving attendees.
Conference Dinner starting 19:15, end no later than 23:00.
The SAT 2013 conference dinner will take place at Restaurant Saaristo in a Jugend-style wooden villa built in 1898 on the Klippan island, just some tens of meters from mainland Helsinki. The restaurant (and hence the island) is booked entirely for us for the evening.
We will arrive by tram right next to the boat peer of the Restaurant. The boat trip to the restaurant takes only some 2 minutes, and the boat will be able to transport around 40 of us at a time to the island. In case you wish to skip the sightseeing tour and wish to arrive to the restaurant by yourself directly, please check the SAT Location Map for the location of the restaurant's boat peer.
In case you need to leave the dinner early, please simply notify the restaurant staff that you would like to leave. The boat will take you back any time you wish to leave.